Coronavirus pandemic causing Americans to feel stressed, disconnected this holiday season: survey
23andMe's commissioned survey says lifestyle changes are happening amid pandemic
With eight months into the coronavirus pandemic and more than 59 million confirmed infections around the globe, the holiday season doesn't quite feel like it used to.
The health crisis has not only made Americans feel stressed and disconnected but is also upending cherished traditions, according to a survey commissioned by genealogy company 23andMe. The poll, which was conducted through SurveyMonkey from Oct. 21 to Oct. 24, found that most Americans are anxious about the holidays ahead.
INSTAGRAM THANKSGIVING STUDY CLAIMS THESE ARE THE MOST POPULAR PIES BY STATE, BUT PEOPLE HAVE QUESTIONS
In a poll of 1,031 adults, more than half of the survey's respondents said they will skip out on Thanksgiving and Christmas or Hanukkah gatherings at 51% and 53%, respectively. Even more respondents – 68% – said they are opting out of festivities for New Year's.
And 40% of respondents said they will have smaller family gatherings for the holidays.
NYPD, NEW YORK SHERIFFS WON'T ENFORCE THANKSGIVING GATHERING ORDER
Outside of parties, 62% said they won't be able to engage in "traditional holiday activities and celebrations" because of the COVID-19 pandemic. However, the Centers for Disease Control and Prevention (CDC) has updated its holiday guidance to urge against travel due to the rising number of coronavirus cases nationwide.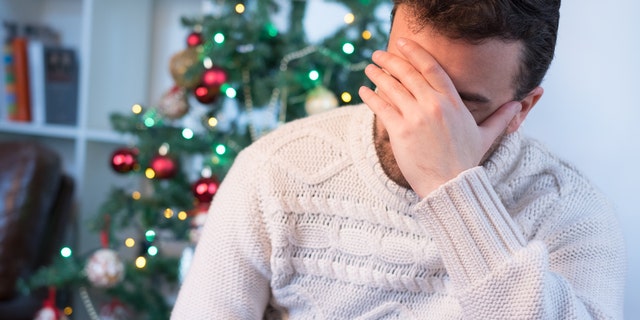 When it comes down to how the pandemic is making people feel, 23andMe's survey suggests that nearly half of Americans "feel more stressed and less connected to their families" when compared to 2019. Notably, Gen Z respondents between the ages of 18 and 24 were the most stressed demographic at 59%.
AMERICANS EXPECT TO GAIN THIS MUCH WEIGHT OVER THE HOLIDAYS: SURVEY
The pandemic is also taking its toll on people's physical and mental strength.
Thirty-eight percent of the survey's respondents said they are worried about their health as the holidays near, while 36% admit to sleeping less and 34% admit to exercising less. One-third of respondents said they weigh more than they did last year and nearly one-third (32%) said they "feel more depressed" than they did last year.
CLICK HERE TO GET THE FOX NEWS APP
Moreover, these negative health consequences have shaped what gift-giving is going to look like in 2020 and the upcoming new year. Millennials between the ages of 25 and 34 and Gen Z indicated they wish to get a health and wellness product as a gift at 42% and 58%, respectively.
CLICK HERE TO SIGN UP FOR OUR LIFESTYLE NEWSLETTER
Of those who plan to give health-related holiday gifts, 31% said they are thinking about their health more and 34% said they want 2021 to be a better year health-wise.